Why Should You Install Vertical Blinds In Your Home?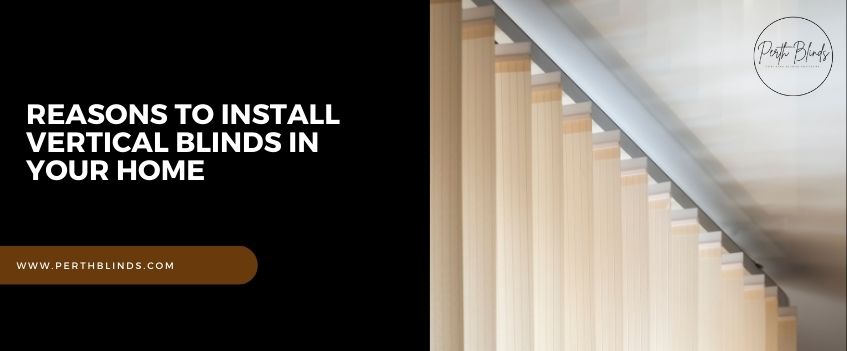 10 Apr 2023
When it comes to decorating your home, choosing the right window treatments can make all the difference in both aesthetics and functionality. Vertical blinds are a popular choice for many homeowners in Wangara, and for good reason.
Here are some reasons why you should consider installing vertical blinds in your Wangara home.
Light Control
Vertical blinds allow you to control the amount of light that enters your home. With adjustable slats, you can easily tilt the blinds to let in just the right amount of light, whether you want to create a bright and airy atmosphere or a more subdued ambience.
Privacy
Privacy is important for any homeowner, no matter where in Wangara or anywhere else, and vertical blinds provide just that. They offer complete privacy when closed, and you can adjust the slats to let in light while still maintaining your privacy.
Easy Maintenance
Vertical blinds are easy to clean and maintain, making them a practical choice for busy homeowners. You can simply wipe them down with a damp cloth to remove dust and debris, and they are also resistant to moisture, making them a great choice for high-humidity areas like bathrooms.
Energy Efficiency
Vertical blinds can also help you save money on your energy bills by reducing the amount of heat that enters your home. With their ability to block out the sun's rays, they can help keep your home cooler in the summer, reducing the need for air conditioning. In the winter, they can also help insulate your home and keep it warmer.
Style
Finally, vertical blinds are a stylish and versatile option that can complement any decor style. They come in a variety of materials, textures, and colours, so you can easily find a set that matches your home's aesthetic. From classic white to bold prints and patterns, there is something for every taste.
Vertical blinds are a practical and stylish choice for homeowners in Wangara. With their ability to control light and privacy, easy maintenance, energy efficiency, and versatility, they are a great addition to any home. So why not consider installing vertical blinds in your Wangara home today?