How Can You Style Vertical Blinds In Home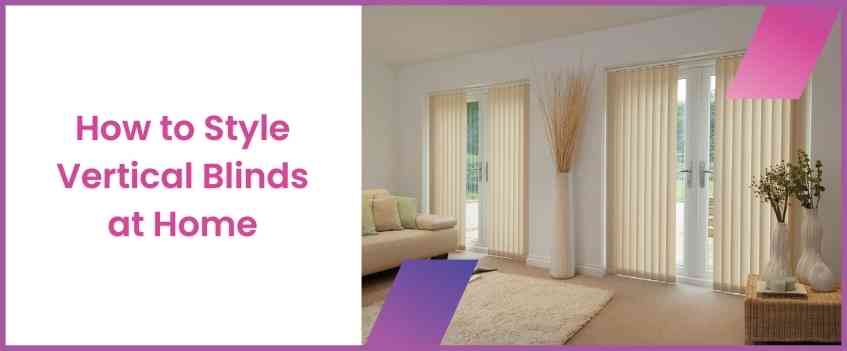 06 Oct 2022
When you visit a blinds store in Mandurah you will be bombarded with a million options. Each blind has a different aesthetic. Thus, they need to be styled differently to suit any room. There's one such blind that people find particularly difficult to style i.e., vertical blinds. People think vertical blinds are only suitable for commercial places. But that's not true. Vertical blinds when styled carefully can look perfect in any space be it commercial or residential. Even in residential spaces, the popular belief that you can hang vertical blinds only in certain spaces is not true. It can be hung to cover big to small windows.
Let's look at some ways you can style vertical blinds in your house in Mandurah
Living Room
Let's assume you have a tall glass door overlooking the garden in Mandurah. While the beautiful glass door gives you a spectacular view through it, it can also be used to peep into your house. Thus, when you are not enjoying the view outside, you can draw in vertical blinds. The vertical blinds will obstruct outsiders to get a glimpse of the house, while manoeuvring the panes of the blind you can allow a little light to come in. You can easily style vertical blinds in your Mandurah house. Couple neutral-coloured vertical blinds with almost all aesthetics. They look quite luxurious and homely.
Kitchen
While a well-lit kitchen helps you to get a good flow of light in your kitchen, it can be quite distracting as well. Wooden or aluminium vertical blinds look perfect in any kitchen be it a professional kitchen or your home kitchen. It is not just aesthetically pleasing but serves a practical purpose as well. Unlike other curtains that can get easily dirt and greasy in the kitchen environment and are difficult to clean, vertical blinds are quite easy to clean. Thus, if you want to cover your kitchen windows you should ask for vertical blinds from a blinds shop in Mandurah.
Bathroom
The bathroom is one of the most private places, where you want to retain your privacy. But if there's no window the humidity and smell can't escape. Thereby, it is important to have a window in the bathroom. However, these window needs to be covered with blinds when the bathroom is being used. Faux wooden vertical blinds look and serve rightly in the bathroom. If you have darker colours in your bathroom, you can opt for dark faux wood vertical blinds or a lighter tone faux wood vertical blind can be used for a lighter aesthetic. 
Home Office
After the pandemic, we all created one office room in our home. But just establishing a desk and computer system can't make a space feel like an office. It is scientifically seen the environment plays a key role in heightening or lowering productivity. Vertical blinds are quite efficient in fostering a professional ambience in your home office in Mandurah. All you need to do is pick the right shade that exudes a professional vibe.
These are some places in your house where you can hang a vertical blind without fearing that it will stick out like a sore thumb. Just follow the colour scheme and pick the right material for your vertical blinds and it will look perfect in your Mandurah house.