How To Pick The Right Roller Blind For You?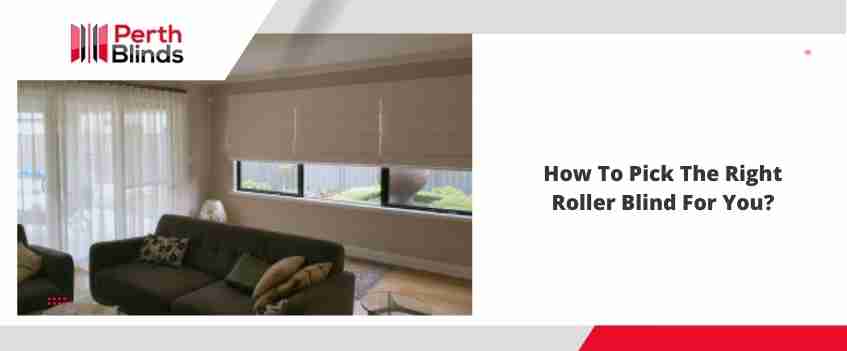 12 Jul 2022
Rollers blinds are perhaps the most versatile blind out there. These blinds can suit all kinds of setting from residential spaces to commercial spaces with ease. They execute a sophisticated and classy vibe. Thereby, they are widely chosen by people for different spaces.Roller blinds can be seen donning several facilities in Perth. Working out how to select blind colours may be a challenging task since there are so many variables to consider. So, here are a few pointers to help you choose the ideal colours for your Roller Blinds.
Add A Little Light:
White can be a fantastic choice in areas that demand more light, such as kitchens or living rooms, because it allows more light to enter the space. White or cream blinds soften the appearance of your property. White blinds might also help if you want to keep your canvas basic and will be using bursts of colour in your home design. If you're thinking about resale value, white is a terrific colour to go with. It is the least likely to turn off prospective purchasers. Remember that there are many various hues of white and cream, so when choosing the shade for the roller blind ask the supplier in Perth to send over some fabric samples to test the tone under your house light.
Keep it as per your decor:
It is critical to evaluate your decor's style and theme. Roller Blinds in natural colours may be appropriate for a homestyle rustic-themed decor, but blinds in brilliant colours may be appropriate for a more contemporary house. Alternatively, you may choose darker-coloured blinds to create a more sombre atmosphere.
Go Bold or Go Home:
If you choose a more modern and contemporary decor, you may find that going with a few different colours or a patterned blind to highlight your windows or one single bright colour to enhance your home furnishings or main home decor pieces is a bold option. For instance, black and white alternating roller blinds or a red blind that coordinates with your red accent items. Thus, ask your roller blinds supplier to show you some vivid and bold designs to accentuate the look of your house.
Overcrowding:
Having too many colours in one space is something you want to avoid with your Roller Blinds. You may want to change the colours of your blinds to bring accent to your space, but adding more than two different coloured roller blinds may produce a messy, crowded look and be polarising for prospective home buyers if you want to sell your property. Thus, when asking for bold roller blinds from the supplier in Perth, ask for designs that go along with each other.
Thereby, when you're selecting roller blinds for either your home, condo, office, cafes, restaurants or stores, keep these tips in mind. While having good roller blinds can look stunning. The wrong choice for roller blinds can ward off people.